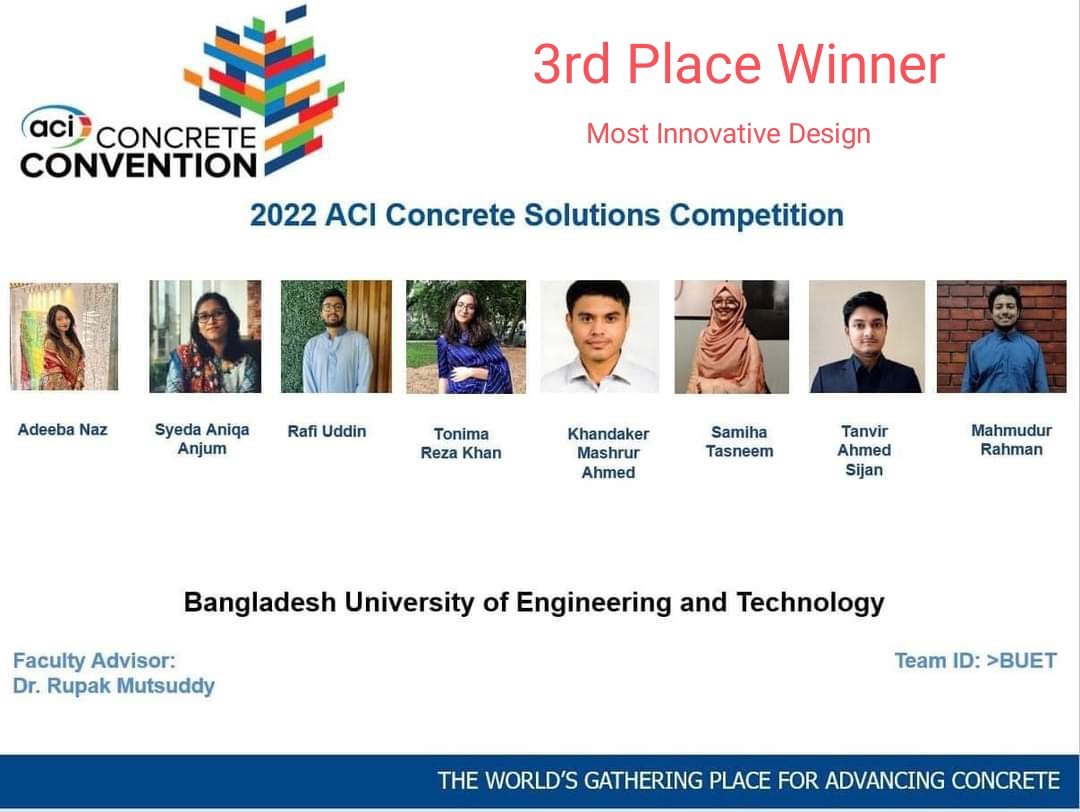 Celebrating BUET's Remarkable Success at the 2022 ACI Concrete Solutions Competition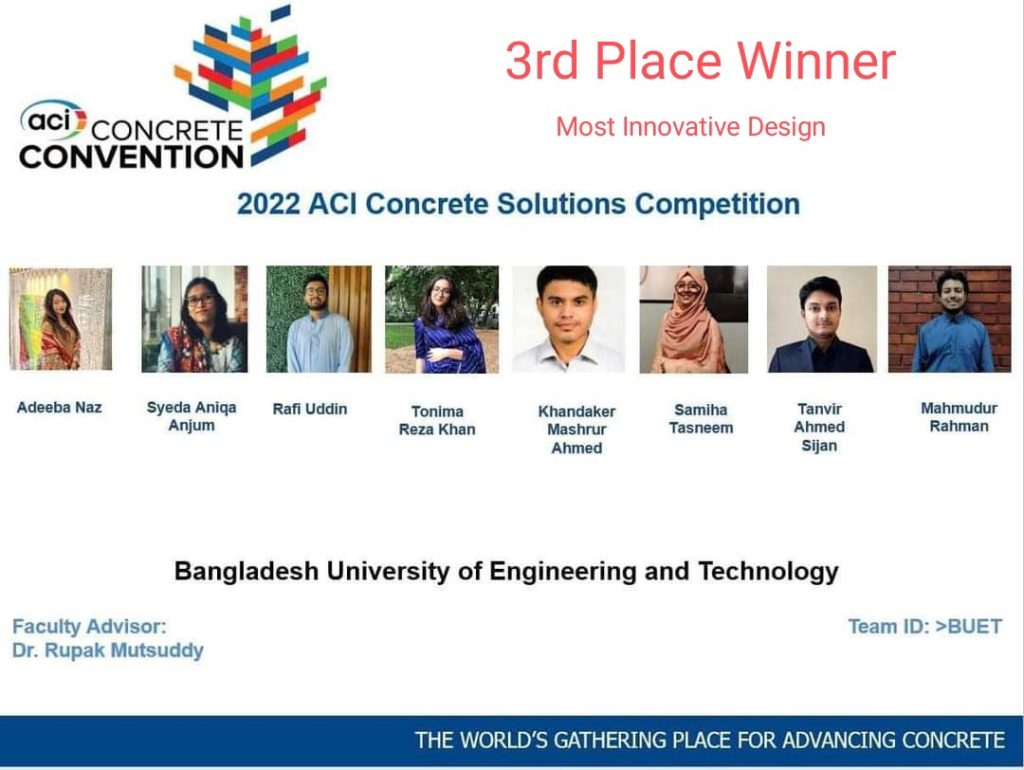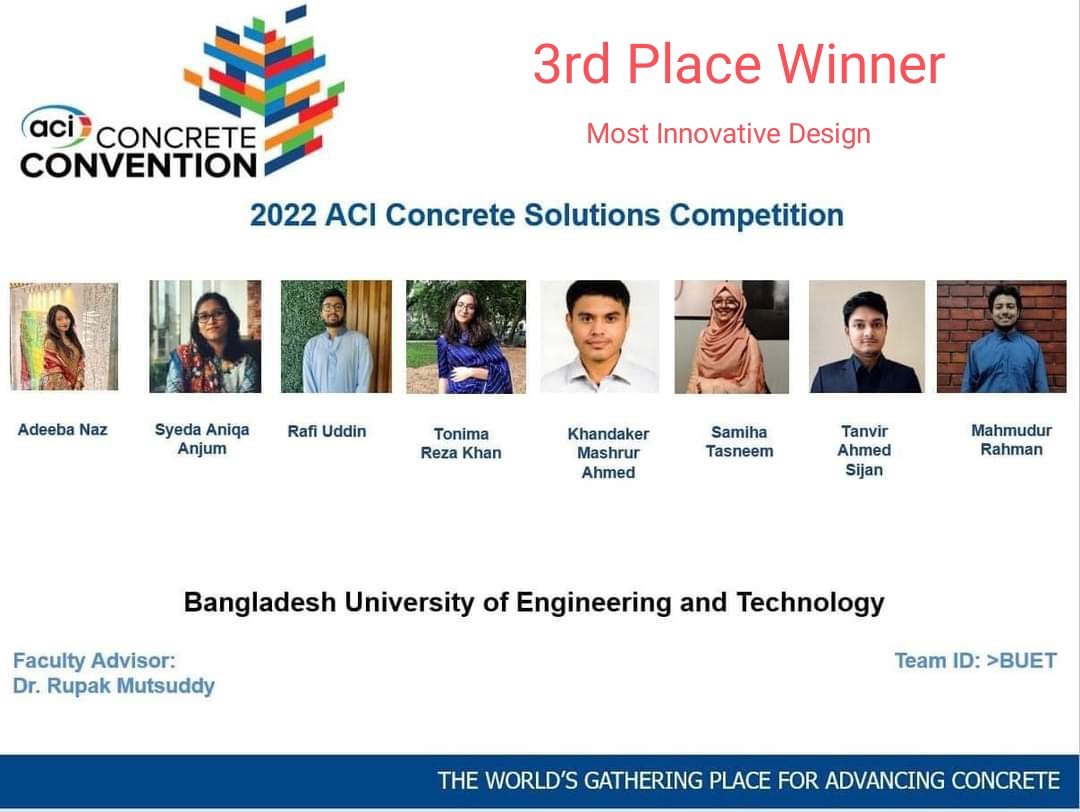 Dear BUET Alumni,
The achievements of Bangladesh University of Engineering and Technology (BUET) continue to shine on the global stage, as we proudly announce a momentous triumph in the recent 2022 American Concrete Institute's (ACI) Concrete Solutions Competition. This prestigious event took place in conjunction with the ACI Concrete Convention held in Orlando, FL, USA from March 27-31, 2022.
We are thrilled to share that "Team >BUET," representing our esteemed institution as the sole participating team from BUET, has secured an outstanding 3rd Place Winner (2nd Runners Up) in the 'Most Innovative Design' segment of the competition, triumphing over participants from around the world.
This remarkable achievement is a testament to BUET's unwavering commitment to academic excellence, innovation, and global competitiveness. The dedication and hard work of "Team >BUET" have brought honor not only to themselves but also to the entire BUET community.
Achievement Details: The competition challenged participants to showcase their expertise in concrete design and innovation. "Team >BUET" rose to the occasion with their ingenuity, presenting an innovative design that captured the attention and admiration of the judges and fellow participants. Their remarkable achievement reflects BUET's dedication to nurturing future leaders who are capable of pushing the boundaries of knowledge and contributing meaningfully to their fields.
Impact on BUET and Beyond: BUET's success in the ACI Concrete Solutions Competition serves as a beacon of inspiration for current and future students. It highlights the institution's commitment to providing a world-class education that equips students with the skills, knowledge, and confidence to excel in international arenas.
Acknowledgments: We extend our heartfelt congratulations to "Team >BUET" for their exceptional achievement. Their success would not have been possible without the guidance and mentorship of BUET's esteemed faculty members, who continue to shape the minds of future leaders. We also express gratitude to the entire BUET community for fostering an environment of innovation and excellence that allows our students to thrive.
Future Endeavors: As "Team >BUET" basks in the glory of this achievement, we encourage them to continue their pursuit of excellence and innovation. Their success serves as a stepping stone for even greater accomplishments, and we are confident that they will continue to make BUET proud in their future endeavors.
Warm regards,
BUET Alumni Association